Land Surveying Services
Land surveying has been practiced for thousands of years and is the detailed study in support of planning, designing, and the establishment of property boundaries. We all have boundaries whether a country, state, county, municipality, or individual. We are here to define those boundaries to protect the interest of the individual and ensure they have an accurate depiction of what they own and maintain. We offer a wide range of services to fit your needs and our team is here to guide you through your next project no matter what the size because at Polysurveying we are "Taking Surveying to New Heights, while Knowing Our Boundaries".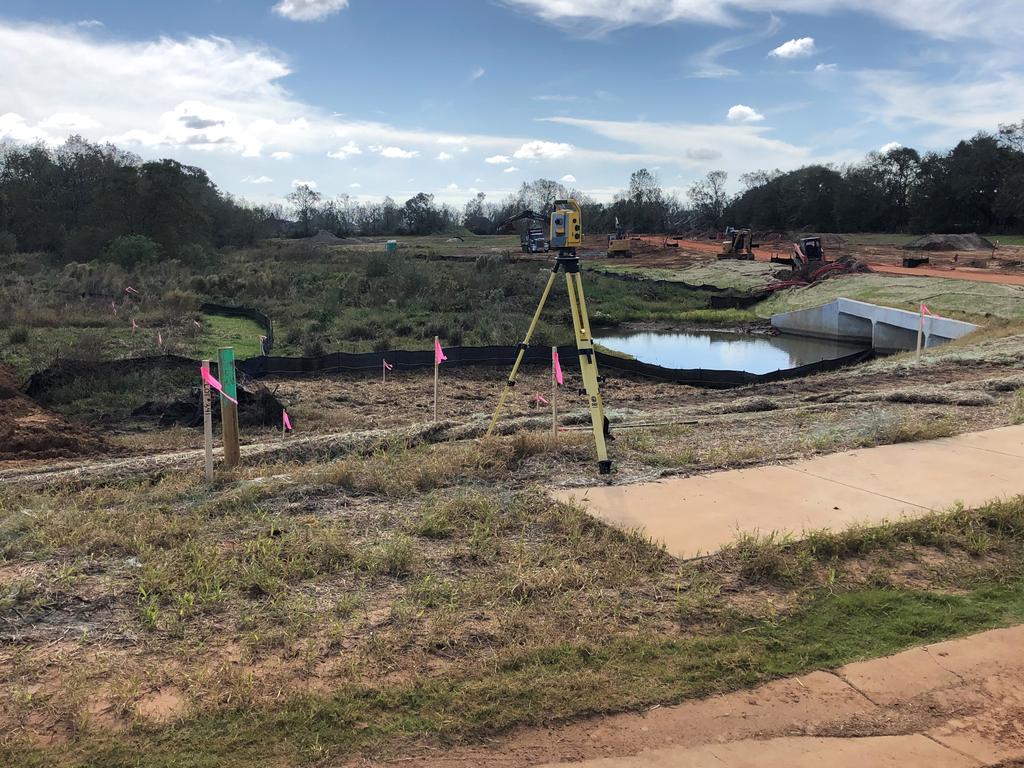 Surveying Services We Provide
With over five decades of experience spanning three generations, Polysurveying offers expert land surveying services across the Gulf Coast Region.
When looking to get your next project off the ground, find a partner you can trust that prides itself on not just meeting, but exceeding your expectation.
Boundary Survey
A boundary survey is simply what it states. A professional's opinion of the location of the boundary between one owner to the next where we as surveyors are tasked with "following in the footsteps of the original surveyor". We do this by researching deeds, reviewing previous plats and/or surveys either provided or in public records, gathering evidence of possession such as fences or other existing monumentation, and doing our best to accurately depict the boundary physically on the ground. A boundary survey lays the foundation for most proposed development as it allows the owner to understand the footprint in which they can construct their building, home, or subdivision. Whether building a home, fence, shed, drive, addition, or creating a development, a boundary survey is a guide to how the property can be utilized under the governing body's rules. When looking to purchase or build on that next investment ensure you have a survey performed to ensure you know where your boundary lines are located and sleep easy at night knowing you have hired Polysurveying to handle this for you.
Plot Plan/Site Plan
A plot plan or site plan (often referred to) is a depiction of the home that the homebuilder or individual plans to build in relation to any setbacks, easement, drainage features, etc. Plot plans are typically performed without the aid of field surveying techniques unless the local municipality requires additional information such as water and sewer lateral location, trees located, and crown of the road requirements aided in the construction process. When completed without field surveying, we are provided setback information from the client or use the existing subdivision plats to ensure the home is placed in the most effective location to ensure setbacks are met and drive location are adequate for the proposed home. If permitting jurisdictions require additional information, we will then perform at minimum a boundary survey for location of utilities, trees and crown of the road elevations to ensure it meets the local requirements. Plot plans are a key element for our builders and are used on the initial steps for getting a permit to construct a home.
Stakeout or Construction Layout
A Stakeout or construction layout for new construction or addition for a remodel shows builders where to place the proposed foundation, while considering building setbacks in relation to the properties boundaries to ensure proper placement based on plot plan (see def.). We perform a boundary (see def.) and layout the proposed foundation or addition in the form of stakes, rebars, etc. are placed on the property showing builders where the footprint of the building is located. We then produce a survey drawing or map of the layout markings of the building location and this is the actual survey for your records. A follow-up to this survey is highly recommended, to ensure the home or building is in the correct location.
Foundation Survey
A form or foundation survey is performed to show the location in respect to the property lines, known easements, and known setback lines Most builders want to get a form survey the location of the foundation is checked prior to the placement of concrete, and can save against costly mistakes that have been known to occur during construction. The foundation survey can also be needed for lenders, mortgages and permitting checklist requirements and often must be certified to the entity providing funding. If a permitting jurisdiction is involved, they may require certain elevation components in terms of heights of Finished Floor of the home or building to be depicted in relation to a known point or distance above the crown of the road.
Final Survey
A final survey is a survey that depicts all physical features located on a property that are visible. Typically all improvements are shown (house, drive, walks, fences, sheds, visible utilities, etc.) to ensure that the buyer and/or lender are satisfied with the location of these features in relation to the boundary of the property(see def.) and are typically required for:
• Lenders who want to ensure or certify that the home and other improvements are in the planned locations.
• Permitting agencies may need for the process of getting a Certificate of Occupancy (C/O)
• Improvements (buildings, walks, drives, fences, pools, sheds, etc.)
• Piece of mind to ensure that the homeowner or buyer is satisfied with what they are purchasing.
When buying that piece of real estate, first home or forever home you owe it to yourself to get an accurate depiction of the property and the features located on it. For most of us, this is the largest asset we will ever possess so ensure you have a clear understanding of what you are buying by having a final survey completed by Polysurveying.
FEMA Flood (Elevation) Certificates
If you live in a floodplain, you may need a FEMA Flood Elevation Certificate in order to get flood insurance. Since tropical storms, hurricanes, and floods have become more frequent and severe in the past decades, it is more important than ever to get your property evaluated for a potential flood. Polysurveyng can help property owners evaluate Special Flood Hazard Areas (SFHAs), to help navigate the flood insurance process. There are 3 types of Elevation Certificates that are needed throughout the construction process:
• Preliminary Certificate – determines the location of the proposed home or building in regards to the existing flood plain and establishes the minimum height requirement by FEMA and the local municipality. Typically, a benchmark elevation is set on-site to provide the builder a reference to the proposed height for construction. It should be noted that local municipalities require additional height above FEMA's requirements or set their own standards above that requirement that must be followed in order to comply with their permitting rules.
• Building Under Construction or B.U.C. Elevation Certificate – is typically completed at some stage in the construction process (if required by permitting or used as a quality control checkpoint). This is a very important element when building in flood zone and is highly recommended from our experience that it be performed at the time in which the foundation is formed up to ensure the building height meets those requirements set forth in permitting.
• Final Certificate – this is completed on existing homes along with at the completion of new home for either flood insurance or obtaining a Certificate of Occupancy (C.O.) to close out permitting on construction. The final certificate provides insurance companies a basis with certain characteristics of the construction design in relation to the floodplain to give the owner an insurance rating.
Living and working along the Gulf Coast we are very aware of Hurricane events and flash flooding due to our proximity to large bodies of water. Remember that the insurance company needs a certificate to provide factual information for your flood insurance rate and often times can lower those pesky premiums we all love to hate.
As-Built Survey
An As-built survey is typically generated through the insistency of a permitting agency wanting to ensure that construction is going as per the plan provided. It acts as a quality control check that is normally a procedural requirement of certain jurisdictions. Agencies, mortgage companies and banks may sometimes request this survey to ensure all building setback and easement requirements are being followed in accordance with the plat or governing body.
Topographic Survey
This type of survey Is a depiction of the natural features of the land or topography that gives key information used for design and provides a detailed image of what features are affecting the site from utilities, buildings, improvements, water features, roadways, etc. They are typically utilized by engineers for design for a subdivision, commercial or residential development to ensure the development meets all criteria for all local governmental agencies from both a drainage and utility overview.
• Visible utilities are located where accessible, with the aid of 811 utility marking services and with plans provided from local agencies
• Sewer and Storm lines are physically located and depicted with their depths and pipe sizes that connect them when access is allowed.
• Structures on site.
• Roadway tie in points
• Other surface utilities (i.e. valves, manholes)
Our topographic surveys are performed with the combination of our (UAS) Drone Department in addition to utilizing both are GPS and Robotics technology to provide a turnkey project to the design engineer to ensure a successful project.
Subdivision of Land (Major vs. Minor)
Subdivision of land (commonly referred to as subdivision platting) is the process of splitting a tract of land into smaller parcels and is reviewed by the governmental agency that oversees this process. There are two forms of subdivision being major subdivision and minor subdivision with minor typically being 5 lots or less and Major typically involving the construction of a roadway for either Public or Private use. The complexity of each form typically depends to the jurisdiction reviewing as each has independent rules and requirements that must be met. All major subdivisions have a topographic survey (see def.) involved to provide elements needs for design of roadway, drainage and utilities to provide access for the subdivision itself.
Our Drone division aides in the process to ensure timely delivery of the topographic survey for both design and overall planning, while providing an accurate boundary survey (see def.) to provide the framework for the overall design and layout of planned lots. We are able to provide speed and accuracy to the engineer performing the design to ensure that the developer gets his or her plans into a design phase much faster than use of older traditional methods of cutting line or brush cutting which is time consuming and not cost effective. Lastly, the platting process to provide an overall layout map that shows building setbacks, easements, wetlands, and other features is produced to allow the developer to sell lots once recorded into the court records. The completion of this process allows the developer to begin to sell lots and provide future homesites for builders and buyers alike.
When it comes to minor subdivision, we perform from time to time depending on our knowledge of the local municipality and their rules. Every municipality is different with substantially more complex rules and while we are experts in our field, we are not experts of the rules of every governing body. Our approach is to evaluate and help when feasible but do not have the ability to perform minor subdivisions across all locations. We pride ourselves on making your subdivision whether major or minor a success to ensure your project gets from start to finish in the most efficient and effective way possible.
ALTA Survey
An ALTA Survey is a specialized survey of a property that adheres to strict standards developed by the American Land Title Association (ALTA) and the National Society of Professional Surveyors (NSPS). An essential part of any legal ownership of land, the boundaries of a property must be properly and professionally delineated, making note of any easements or public right-of-way, or any other addition to or deletion from the property throughout the course of the parcel's history. Clearly defining the boundaries of a property prevents any dispute over where one parcel ends and another begins. An ALTA/NSPS Land Title Survey is a foundational component of any real estate due diligence period and is necessary to obtain comprehensive Title Insurance for any property as a buyer, seller, or owner.
• Verification of the legal description.
• Location of easements and other encumbrances.
• Identification of improvements and encroachments.
• Verification of access.
• Compliance with local zoning ordinances.
• Utilities available to the property.
• Enhanced title insurance.
Our ALTA division is equipped to handle all ALTA projects across all of Alabama, Florida and Mississippi in utilizing our Drone, GPS and Robotic technology with a comprehensive review of all necessary information to ensure your project is completed accurately with quick turnaround timelines.
Tree Survey
In recent years, tree surveys have become required for many area jurisdictions and are normally permitting driven. We have seen a rise in the requirement along the entire Gulf Coast in multiple states. A tree survey performed by us would locate the size and type of tree (example: 10-inch oak, 12-inch pine, 8-inch magnolia) but not the specific scientific names. Our job is to locate the size, type and depict them on a survey. All tree surveys performed by our firm require a boundary survey (see def.) to accurately depict them to ensure that the permitting jurisdiction is satisfied for the proposed development.
Estate/Family Survey
Quite often Family and Estate Surveys consist of multiple parcels of land. The results of Family and Estate Surveys are usually the same as a Boundary Survey. The intent often is to divide an estate left to a family based on the Grantors wishes or Courts decision. These often are conveyed through a will or judgement of the court. It is the surveyor's duty to follow the guidance laid out to ensure the property is divided in accordance with the documentation provided.
This type of survey is often the most challenging as they are normally the result of a tremendous loss to the family. Our approach is to provide and overall boundary survey of the estate and have all parties sign off on paper the division with the utilization of aerial maps, access and acreage determinations to make the process as easy as possible.
Mortgage Survey
What is a mortgage survey? The mortgage survey aims to satisfy the lender with valuable information, determining the value of the property. Often the survey is cutting out a piece of property from a larger one so that only that portion is financed. An example would be not using 100 acres for financing and instead cutting out 5 acres for a mortgage to build a home or refinance one. The mortgage survey could be provided to a lender to only provide leverage against that smaller portion of property vs. the 100 acres.
Get a Free Quote
Here at Polysurveying, we're equipped to handle all your land surveying jobs and projects in Alabama, Florida, and Mississippi. We provide free quotes to anyone looking for land surveying services.

Baldwin County
Field Division
Daphne, AL
(251) 626-0905
Florida G.C. Panhandle
Field Division
Defuniak Springs, FL
(850) 790-0045
Mississippi S.E.
Field Division
Ocean Springs, MS
(228) 215-8749
HOURS
Mon 8 AM - 5 PM
Tue 8 AM - 5 PM
Wed 8 AM - 5 PM
Thur 8 AM - 5 PM
Fri 8 AM - 4 PM