Foundation Survey / Form Check
A foundation survey or form check is performed to show the location in respect to the property lines, known easements, and known setback lines to ensure that the home and/or commercial building was built in compliance with local regulations. Most builders want to get a form survey the location of the foundation is checked prior to the placement of any significant material is installed as a quality control check and can save against costly mistakes that have been known to occur during construction. The foundation survey can also be needed for lenders, mortgages and permitting checklist requirements and often must be certified to the entity providing funding. If a lender is asking the owner/surveyor to certify to them, the surveyor must produce a survey with clear certifications to owner, lender, and mortgage company to ensure number one that the property is on the correct property and show that it meets local permitting requirements. This ensures the lender that the borrower is getting lending on the property in question and protects all parties by having a survey certified by Polysurveying.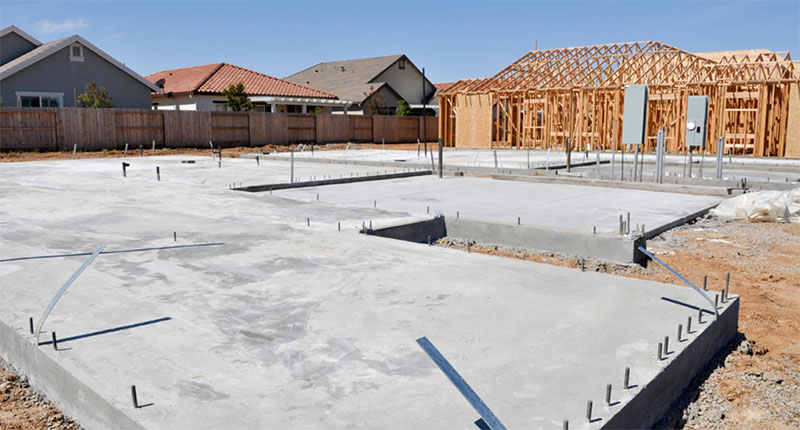 If a permitting jurisdiction is involved, they may require certain elevation components in terms of heights of Finished Floor Elevation of the home or building to be depicted in relation to a known point or distance above the crown of the road. Many jurisdictions are moving to require a minimum of 12" inches above the highest projected point of the crown of the road to eliminate potential flooding or drainage that could affect homes being built in the area. We continue to see this requirement throughout all of our work areas and highly recommended to our builders and individuals to consider as a quality control measure. Remember that a quality control check can save thousands and not to mention time when building that next home and if there is a doubt on location and height of foundation during construction this foundation or form check survey can provide you peace of mind that your project is a success.
Get a Free Quote
Here at Polysurveying, we're equipped to handle all your land surveying jobs and projects in Alabama, Florida, and Mississippi. We provide free quotes to anyone looking for land surveying services.

Corporate Office
5588 Jackson Rd
Mobile, AL 36619
(251) 666-2010
Alabama Field Offices
Daphne: (251) 626-0905
Montgomery: (334) 245-5721
Florida Field Offices
Pensacola: (850) 696-1661
Defuniak Springs: (850) 790-0045
Tallahassee: (448) 488-0585
Jacksonville: (904) 312-7095
Mississippi Field Offices
Ocean Springs: (228) 215-8749
        HOURS
Mon 8AM - 5PM
Tue  8AM - 5PM
Wed 8AM - 5PM
Thur 8AM - 5PM
Fri 8AM- 4PM
Disclaimer: All survey work performed by field divisions is in responsible charge at direction of the Corporate office. All research, assignment, coordination, drafting, billing and review are completed out of the Corporate office.